CLTS Foundation and ICIMOD, Nepal recently collaborated on a joint triggering exercise aimed at the Nepalese community living in the mountainous region of Simikot in the far north western region of Nepal.
The two organisations forged a partnership to organise a five-day workshop on 'Training of Trainers on CLTS and Waste Management' at Simikot, district headquarters of Humla located at a landlocked region of 10,000 ft above sea level. The 5-day ToT was held from 29th March till 2nd April 2016 together with the support of members of CHEA, Uttarakhand.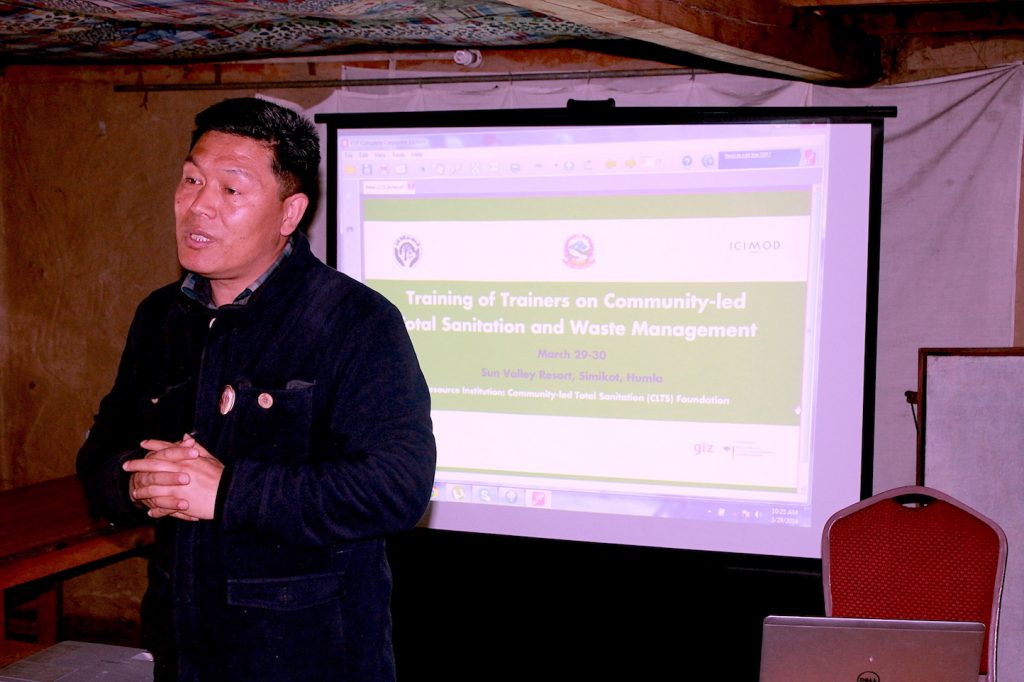 The Programme:
Tourism promotion and protection of environmental sanitation and waste management is crucial to healthy community especially in this kind of tough terrain of Kailash Mansorvar landscape region. Understanding the importance of the subject, the ToT workshop included it in the overall 5-day module wherein the potential of all stakeholders like line department officers, NGOs, local community leaders was harnessed for accelerating sanitation and waste management and participating in planning of sustainable interventions.
Participation of stakeholders:
A total number of 58 participants – 30 women and 28 male members -attended the ToT for 'CLTS and Waste Management' from the hilly district town of Simikot. The participants represented local community leaders including women group, NGOs, Ex-member of Parliament and line agencies in the district. In particular, Mr. Jwala Raj Shahi, Chief of Drinking Water and Sanitation, DDC, Humla and Mr. Dharma Raj Rokaya, Chairman of Village Development Committee, Simikot were among the key participants.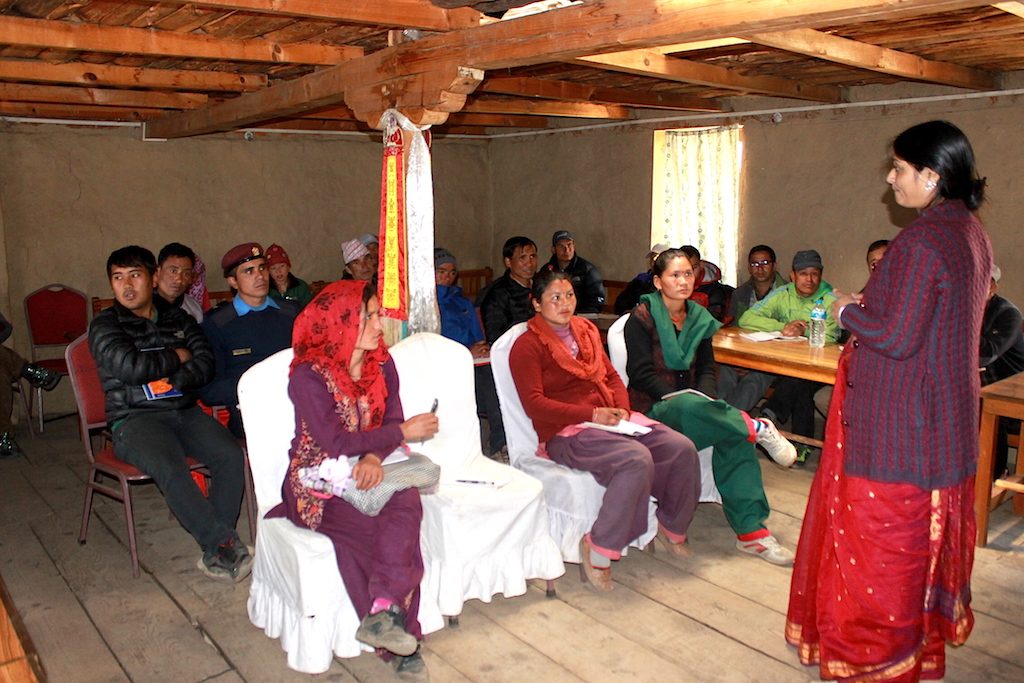 Outcome of the workshop:
The ToT for CLTS and Waste Management was received very well by all participants involved the 'Open Defecation Free' initiative in Humla. The motivation tools and techniques of CLTS Foundation for bringing behavior change at the community level was highly relevant and added-value to their existing approach (partly incentive driven) being followed at the district level.
The practical triggering exercise conducted by the trainers in one of the Non-ODF village (Tola Gou) of Simikot already lead to immediate triggering of communities to adopt proper sanitation and hygiene through toilet construction and its appropriate use. The communities were highly motivated that they have made an action plan for declaring their village ODF within the next two months. In fact, one farmer started to dig toilet pit within an hour of ToT practical exercise.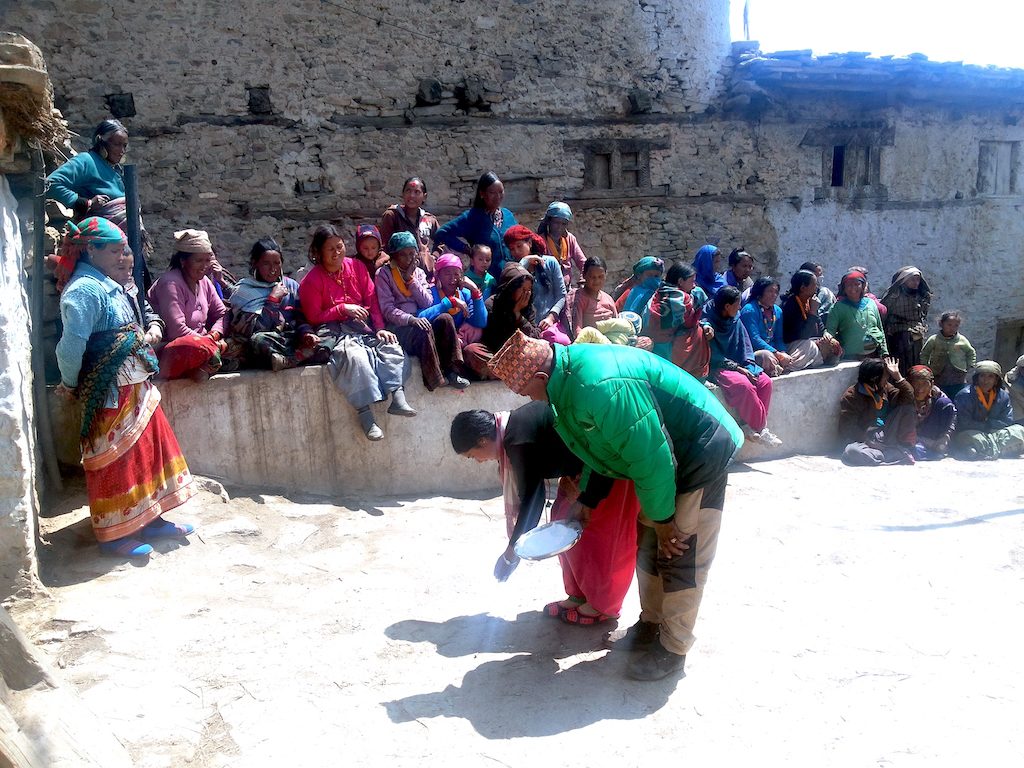 The Simikot town Waste Management Committee (SWMC) was not functional since last one year due to an internal dispute. As a result, garbage issues in the town has exasperated with plastics, bottles and households waste scattered everywhere and particularly  blocking the drains. The ToT exercise provided platform for revitalization of the Simikot City Waste Management committee. The members appreciated the ToT programme as it facilitated resolving their internal issues. In fact, the first meeting of the Simikot City waste management was already scheduled on 3rd April, 2016 to discuss committees roles and responsibilities and prepare an action plan for immediate implementation as Kailash tourism for the year is slated to start from 1st May 2016.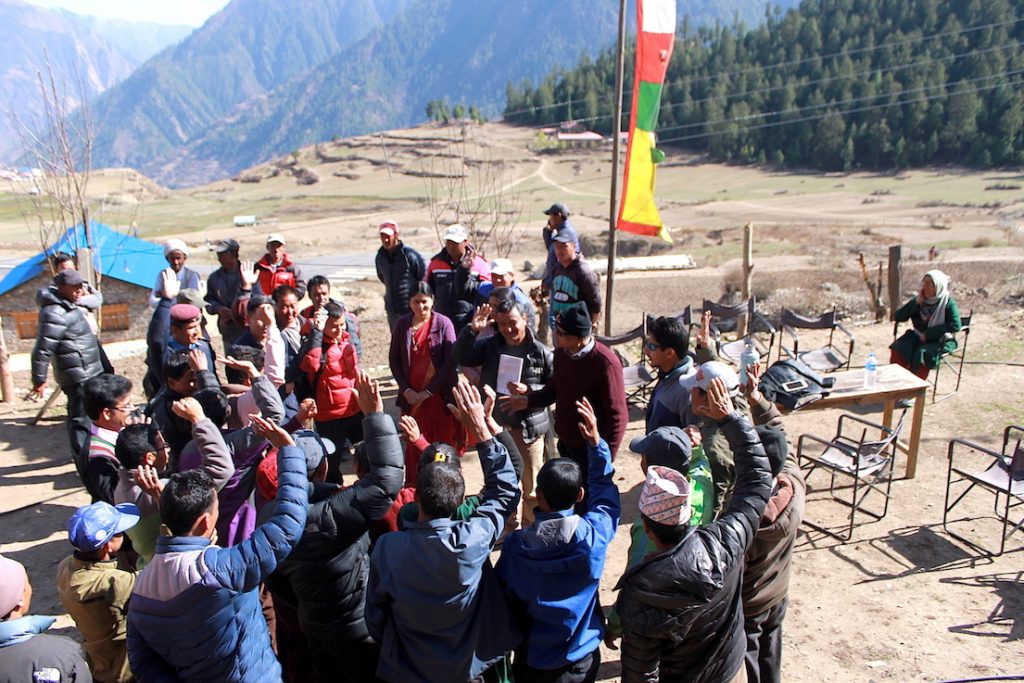 The CDO, LDO, Chief, Drinking Water and Sanitation and other local leaders committed to follow-up on the ODF process as well as waste management for ensuring Clean and Green Simikot town, the gateway to Kailash.  There was excellent ownership from the local government and convergence with local plan.
The article was written by Amit Sengupta with inputs from Aastha Anuragi and Deepa Upadhyaya.
---
Subscribe with your email id to get the latest from CLTS Foundation, knowledge products, our campaign posts, newsletter, interviews of CLTS Champions and much more.
---
[wysija_form id="1″]