Recently, we have been witnessing a spate of incidents of humiliation and coercion being perpetrated on community members across many Indian states, as part of efforts to eradicate open defecation and adopt healthy sanitation and hygiene practices. This onslaught of violence is mainly led by external actors as part of the large-scale sanitation drive taking place in the country today. While the objective may be to achieve a sanitised India, the means adopted for this purpose in many cases, that of publicly shaming people and using coercive tactics by outsiders to induce behaviour change in them is not only a criminal offence and a gross violation of the principles of human dignity and respect, but in most cases such measures never succeed in achieving the intended goal of sustained sanitation behaviour. Further, the normalisation of this violence within sanitation initiatives in the name of behaviour change is a matter of serious concern in a vast and diverse country like India.
There is no place for Shaming and Violence in community-led sanitation initiatives: Kamal Kar
When it comes to triggering collective behaviour change using the Community led Total Sanitation (CLTS) approach, the approach does not provide outsiders the right to embarrass, harass, coerce, punish or penalize the community members to stop open defecation. These acts, generally known as 'naming and shaming" and applied as a strategy within sanitation programmes by some, is not allowed in CLTS and if someone is carrying out this practice, they are strongly violating the norms of CLTS.
CLTS is a hands-off triggering exercise where the community through their own analysis, realises the crude fact that they are ingesting one another's other's faeces through the act of open defecation. This often comes as a new realisation for many communities and when they internalise this fact, they collectively take action to stop this practice in their community in the shortest possible time. These urgent collective local actions include:
Immediate utilization of the so far unused toilets
Sharing toilets with relatives and neighbours
Digging pit latrines and using ash and lid to cover the pit after use
Approaching the government and non-government agencies working on sanitation to mobilise any possible support for sanitation hardware
Purchasing sanitation hardware from the local market for building toilets
Supporting the poorest and the most vulnerable in building their makeshift toilets to completely stop the practice of open defecation (use of social solidarity mechanisms).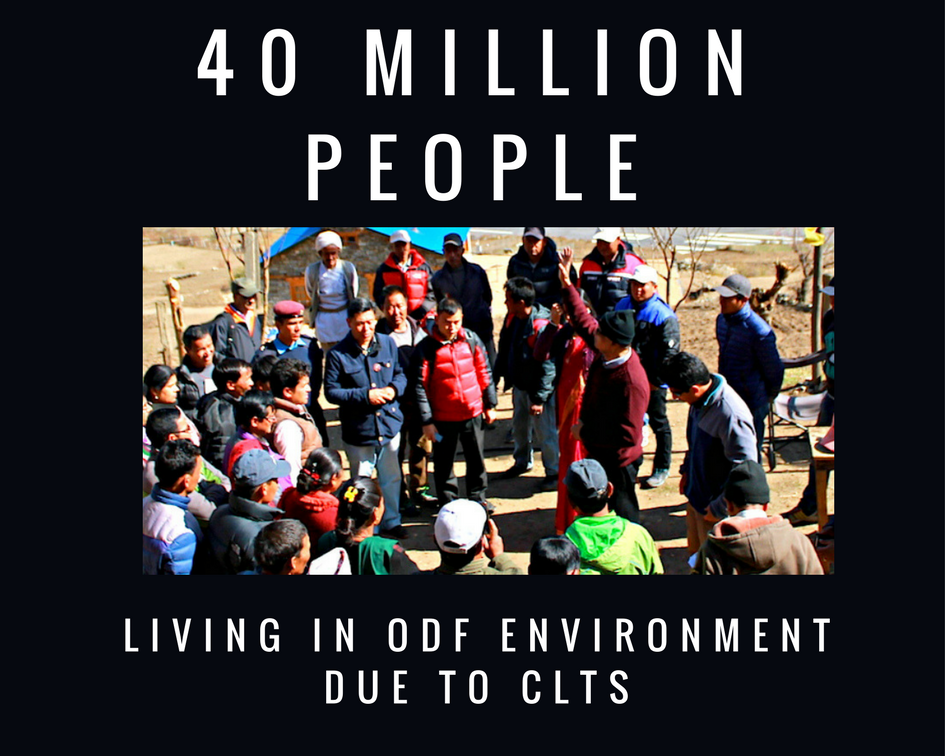 All the above begin immediately after a powerful triggering exercise is facilitated by trained resource persons by involving as many people from the community as possible, including children. As a follow-up to the community's local decision to stop the practice of open defecation, a set of activities are often carried out by the triggered communities in many countries in Asia and Africa. These activities are as follows:
Transferring the ground map (open defecation mapping) which was drawn during the community triggering onto a large sheet of paper and daily monitoring of the same by the triggered community members themselves
Continuation of children's processions chanting slogans/rhymes/songs against open defecation
Follow up by the WASH committee formed or strengthened in the process of triggering, through meetings and house visits, to discourage open defecation in the village
Preparing a very detailed action plan which includes a declared ODF date and following up on this daily to ensure the village is declared ODF by the set target date.
Preparation of ODF celebrations once the village achieves open defecation free status
Declaration of the ODF and putting up a sign board (at the entry of the village) mentioning that no one practices or will be allowed to practice open defecation in the community.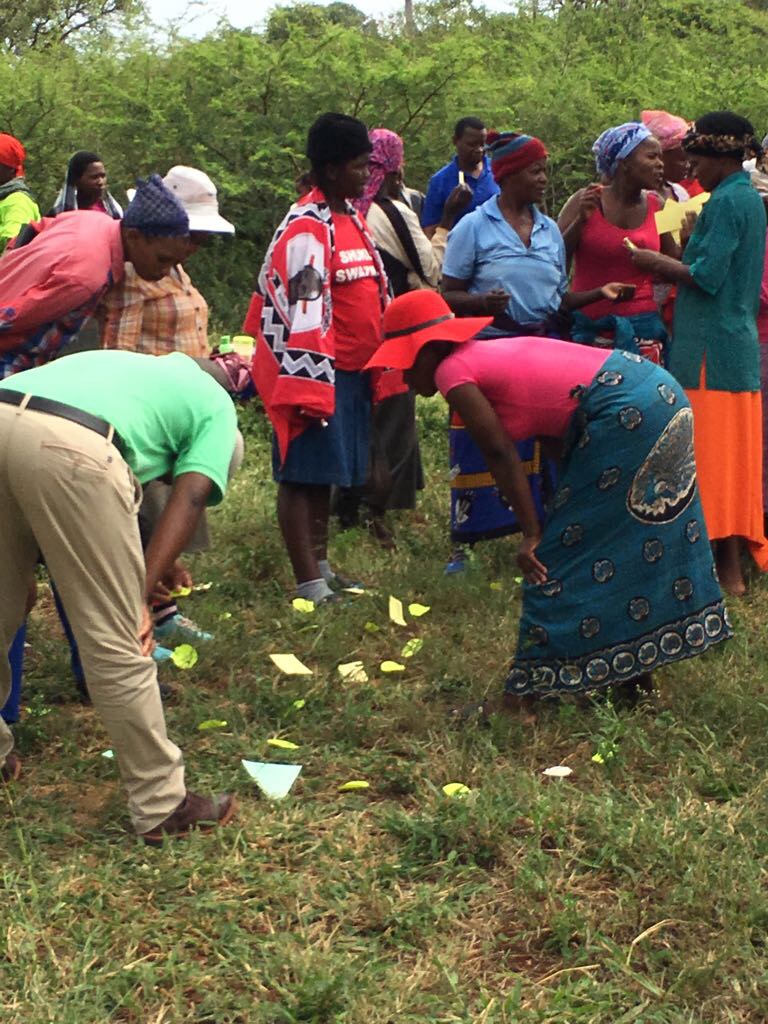 After the village is declared ODF, many communities put in place monitoring mechanisms led by the community WASH committees to sustain the change achieved, and in some cases, penal actions are also imposed. These actions vary widely from place to place, country to country and culture to culture. However, the core principle is that these penalties are decided within each community in a spontaneous, collective manner and everyone in the community agrees to abide by the norms set by them. The striking difference between a community imposed reward or penalty and that of an outsider/government imposed reward or penalty is that the former are non-violent and non-confrontational on a personal level and are only imposed after adequate time is allowed to everyone to organise themselves to abandon the practise of open defecation through the use of some form of toilet facility. The community members also extend support to the poorest and most vulnerable both on a personal level and organizational level to help the community become completely ODF. Some of the community imposed penal actions witnessed in other countries are as follows: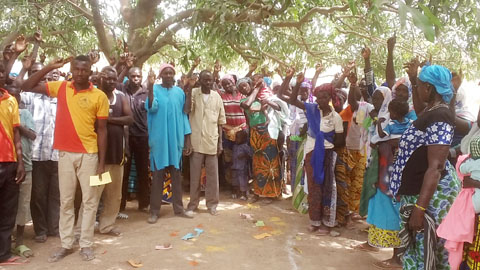 The children's processions shouting slogans against open defecation stop for few minutes in front of those houses from where the children have noticed some members practising open defecation. This instils a sense of embarrassment in the household members as they realise that other members of the community know that they have been practising open defecation. This motivates them to speed up the process of building their toilet so that they can stop the practise. This example has been seen in a village in Chad, West Africa.
Children often place a small paper flag on the heap of the shit, with the name of the defecator (Example from Bangladesh)
If an open defecator is caught in the act by a child or another community member, he/she blows a whistle from his/her home and one blow of whistle triggers the whistle-blowing from all over the village. It goes like an alarm that announces that someone has been defecating in the open somewhere around, discouraging the person who is defecating in the open. The uniqueness of this action is that the open defecator could not identify the initiator of the collective whistleblowing, thereby negating the chance of any personal confrontation. (Witnessed in some countries of Asia and Africa)
The adult community members impose a fine which is always a very small amount of money but the offender is brought to the village 'shalis' (panchayat) and the member is requested in public to not practise open defecation anymore and is assured help and support. (Example from Bangladesh)
In a village experience, a few rich landowners continued to defecate in the open on their own land, ignoring the community rules. The other community members started throwing stones on the roof of the defecator at night occasionally to annoy him but everybody understood that it was an expression of public anger and none of these actions ever took the form of violence.
In Mandi district of Himachal Pradesh, a retired army official wanted to practise open defecation in his vast land and orchard ignoring the Natural Leaders of his ODF village. In an innovative way, recorded voices of cheetah was played through a hidden speaker planted on a tree which frightened the socially powerful defecator (who would otherwise never be victimised through any of the external coercion mechanisms) into stopping the practise as he thought there were wild animals in the vicinity.
In Sierra Leone, the most powerful 'witch-doctors' (traditional healers and practitioners of voodoo) who had participated in the triggering process put up scarecrows in the common OD open spaces which spread a fearful message of superstition across all open defecators and it worked like magic in stopping the practise of OD.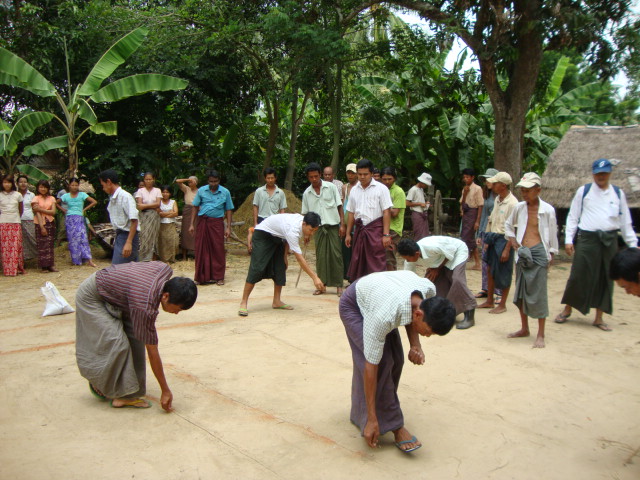 I have noted just a few examples in the above sections but there are plenty of such stories that can be cited from around the world. The key point to note here is that there are innovative ways to discourage open defecation and encourage safe sanitation practices when it is truly community-led. At no point and under no circumstances can violence by outsiders or even by their own community members be justified. It is important that the government takes note of these recent violent incidents, which are not cases of aberrations, but are in fact dangerous turning points which hold the potential to reinforce norms of violence and injustice in unequal societies. Sanitation as a public good is a golden opportunity to unite and bring about collective benefits and development for society overall. It is with this spirit and vision of a broader social transformation that CLTS took birth. It is my sincere hope and request that measures of shaming, violence and coercion are strongly discouraged as a means of achieving positive sanitation change and are certainly not perpetrated under the name of CLTS.