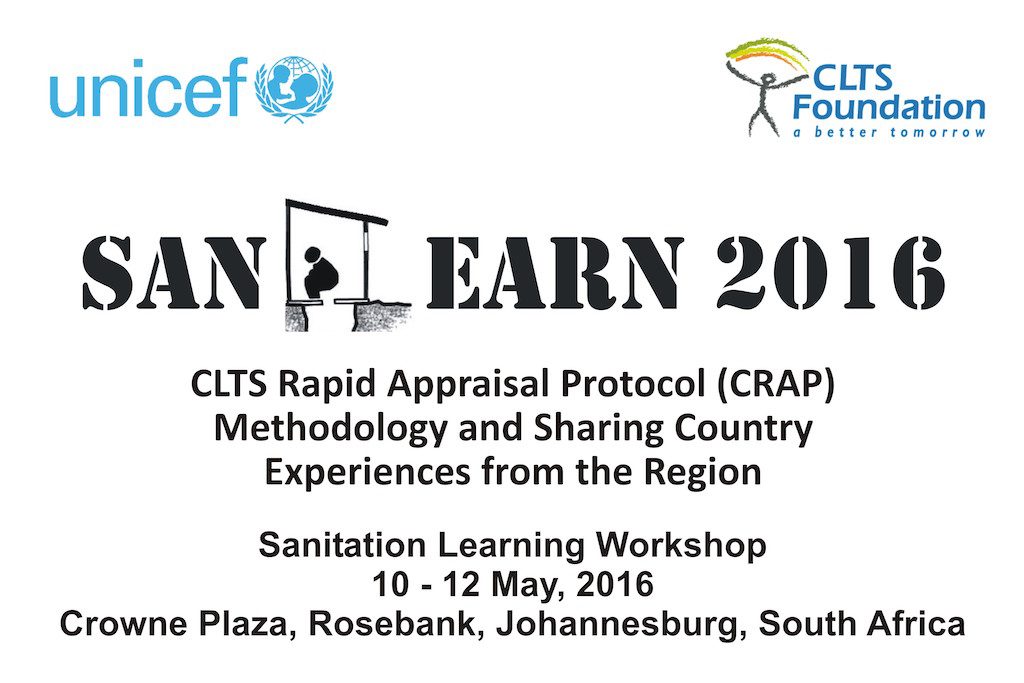 CLTS Rapid Appraisal Protocol (CRAP)
Methodology & Sharing Country Experiences from the Region
UNICEF Eastern and Southern Regional Office (ESARO) and CLTS Foundation are jointly organising a CRAP tool regional workshop at 'SAN LEARN 2016 – Sanitation Learning Workshop' at Johannesburg, South Africa from 10-12 May, 2016.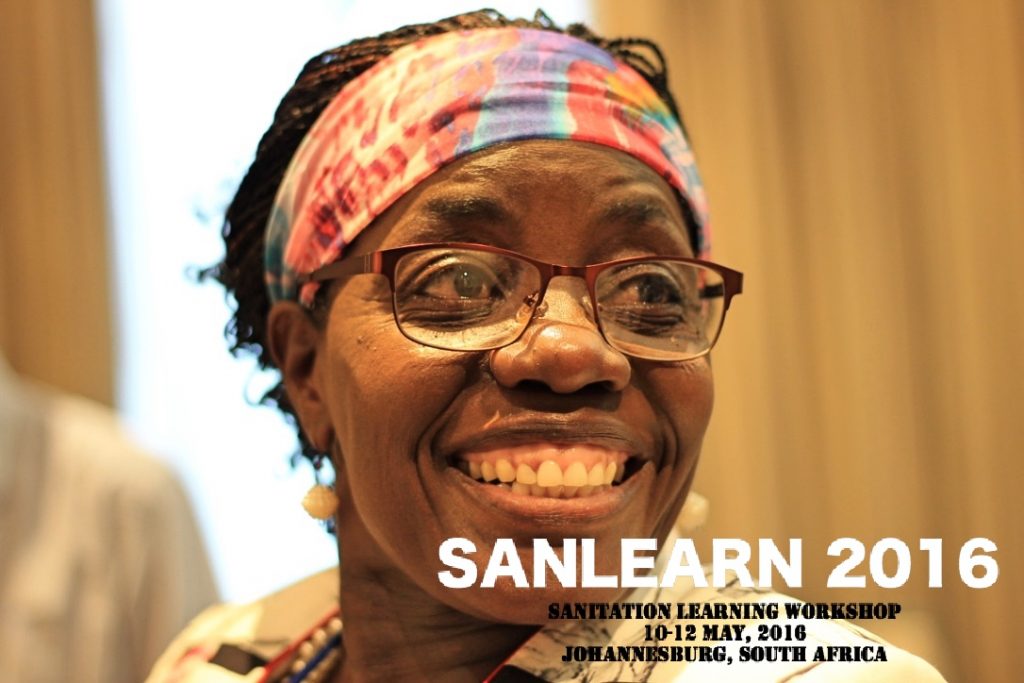 In this 3-day SANLEARN workshop, CLTS Foundation is playing a vital role by facilitating a one full day session on CLTS Rapid Appraisal Protocol (CRAP) on 11th May. This is a unique tool developed by CLTS Foundation and UNICEF ESARO to assess the status and quality of community-led total sanitation in any community, country or region in a quick and comprehensive manner.
The three-day regional level conference by UNICEF ESARO at Johannesburg aims to bring in at least 70-80 senior practitioners working on sanitation from UNICEF and government officials from at least 20 different countries from eastern and southern regions of Africa to exchange experiences of implementing and scaling up sanitation initiatives in their respective countries.
FAQs on CRAP:
What is the CRAP Tool?
The CLTS Rapid Appraisal Protocol (CRAP) is a diagnostic tool to assess the status and quality of CLTS (Community Led Total Sanitation) in any particular country. The tool reviews the present practice of CLTS at the national and sub-national/regional level through a rapid appraisal, which means that it is administered in a quick and comprehensive manner using participatory approaches. Through a series of exercises, all the major sanitation actors in a country are involved in a reflective process, to identify the strengths and gaps existing in the current programme, and think of ways to take sanitation initiatives to scale with quality.
---
---
Why CRAP?
Since its inception in 1999-2000, CLTS has spread rapidly in more than 65 countries globally. Of these, more than 35 countries in the continent of Africa have rolled out CLTS as a strategy to achieve their national sanitation goals, with at least 20 of them adopting the approach in their national sanitation policy. However, there is a wide variation in the quality and scale of implementation of CLTS in these countries based on varying resource capacities, quality of CLTS facilitation, degree of political will, and institutional mind-sets and attitudes, among other factors. Additionally, experiences during the Millennium Development Goals (MDGs) era have shown that while countries have been able to achieve small islands of success, the real challenge has been in scaling it up to achieve open defecation free (ODF) districts or regions or countries. The conceptualization of the CRAP tool emerged from the need to address these challenges, as countries embrace new and ambitious goals at the onset of the Sustainable Development Goals (SDGs) era. CRAP is therefore a simple tool with a methodology that is easy to administer in order to achieve a common basic standard of CLTS implementation across different countries.
6 Pillars of CRAP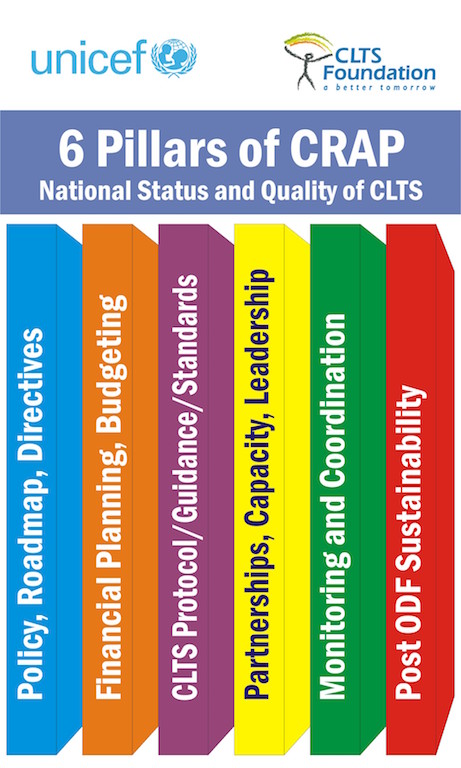 ---

Subscribe with your email id to get the latest from CLTS Foundation, knowledge products, our campaign posts, newsletter, interviews of CLTS Champions and much more.

---
[wysija_form id="1″]