Late 2004
It made me happy when on a remarkable day we successfully triggered Community-Led Total Sanitation (CLTS) approach in Rajendrapur village in Rangpur district to stop open defecation. At that time I was working in a project Nijeder Janya Nijera (We, for ourselves), herein referred as "Nijera" funded by DFID. Nijera project worked towards reducing poverty through self-realization process under social development initiatives in northern districts of Bangladesh. I received hands-on training on Community Led Total Sanitation (CLTS) from Dr. Kamal Kar who was working with CARE Bangladesh to look into the problem of monga (seasonal hunger), which was a key salient feature of the northern districts that led to starvation, scarcity of job, migration and other insecurities in their daily life. Along with monga, open defecation was one of the major problems in the communities of Rangpur district, as a result people of the communities became victims of a diseases such as diarrhea, cholera etc. and then plunged into unexpected death. Mostly women and children were the victims in the community because of open defecation.
Early 2005
During the triggering there were number of Natural Leaders (who naturally emerged in CLTS ignition sessions, boosted up & took responsibility to stop open defecation). It was unbelievable that within a few hours there was a seed of "solidarity" sown in the community. I was assigned with helping the group of NLs and extremely poor households to use their solidarity and confidence to rise out of poverty. Finally the practice of open defecation ended first in their village and they were (NLs & other influential members) gradually successful in inspiring nearby villages to become open defecation free. Since they could end open defecation, all NLs committed to use their solidarity to end monga.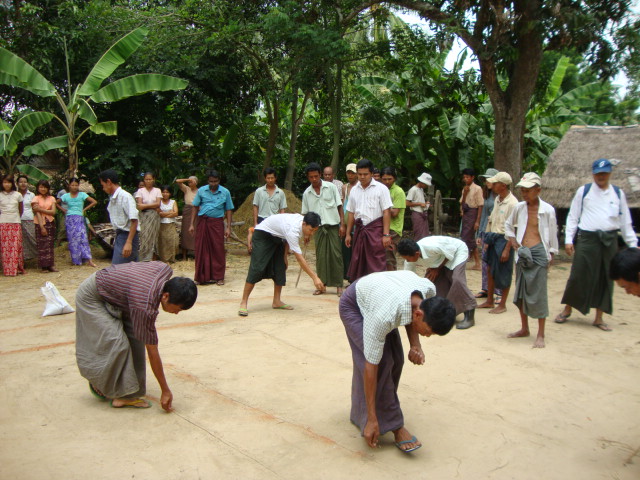 Mid-2005
I was asked to develop an alternative economic opportunity for the community and project beneficiary groups. Immediately, I took the opportunity to work with NLs who had successfully ended open defecation. Meanwhile, I tried to facilitate the concept of alternative economic opportunity with NLs and poverty-stricken families.
During the course of work, all NLs suddenly stopped their work as there were problems encountered by the community. Most of them faced a severe problem of fixed-point open defecation due to the rains damaging parts of the toilet. However, once it is experienced, all the NLs and artisans sat together and find out the solution to overcome these problems. NLs facilitated and demonstrated a bamboo made ring /hole to protect erosion and advised them all to dig out another hole nearby existing hole and put a bamboo ring/hole as a liner of the hole. Similarly, they were instructed to put a shed over the latrine which really solved the problem for everyone. After this breakdown, all NLs came back to start again for finding out the economic opportunities.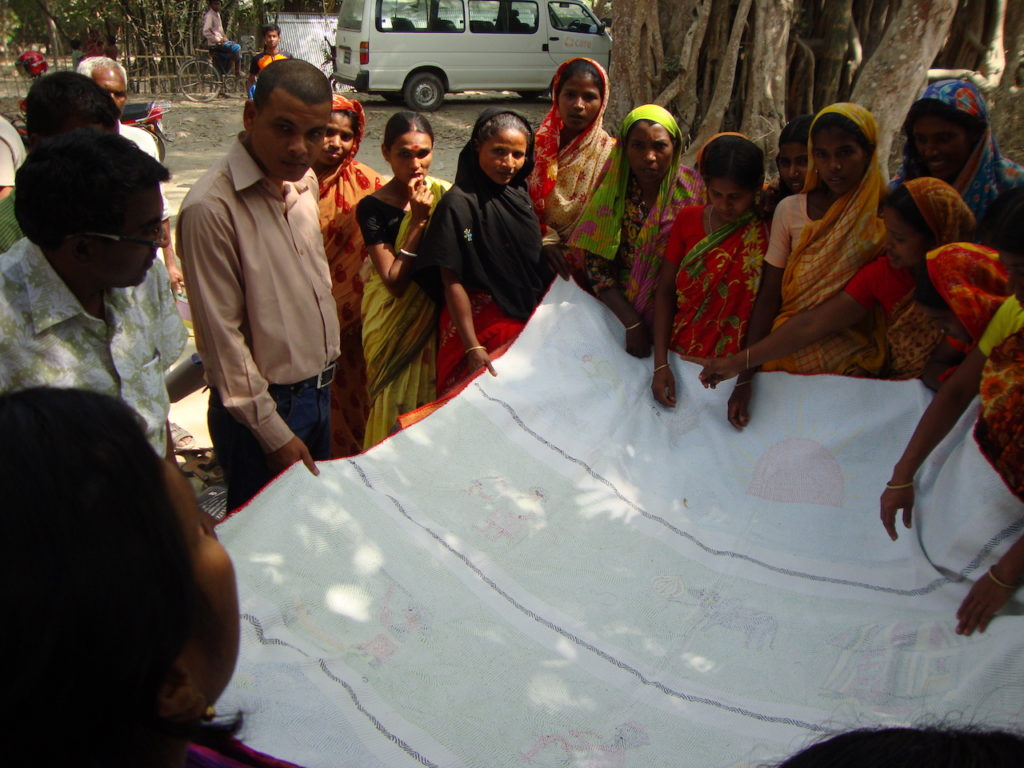 Late 2005
In addition to my normal duties of Action Research Coordinator, I had to do some work as small group of project staff where I also tried to explore economic opportunities along with Rajendrapur. We basically tried to explore opportunities using inherent knowledge of the community people. One day few women artisans brought some "kheta" (Kantha in Bengali – a stitched quilt using old fabrics of saari) and started discussion to do something with this as economic opportunity. I picked up and started work with them to revive Kantha. There was a long journey to revive "kheta" we hired Tushar Kumar an extra ordinary designer in Indian sub-continent who basically helped to improve "kheta" for it's designing, developing contemporary designing with different product ranges for high end market and local markets to earn maximum from the quilt under village industry concept for the artisans and their family.
2006
We started initiative for revival of Kantha with these women who are used to produce two to three kheta normally in a year that earned them TK 300-800. NLs and we were able to identify number of women those who had really good skills on stitching work. Kantha work was running in full swing and mostly women found interested to get involved with the initiatives. I spent a considerable amount of time to work with the artisans for providing training on designing, embroidery work, pricing and leveling etc. More than 300 artisans received training from four different areas of Rangpur, Dinajpur, Gaibandha and Lalmonirhat districts respectively. 30 artisans became Master Artisan out of 300 in these areas.
Apurba Deb Roy is Community Development Specialist, CARE Bangladesh.
This is the first blog in a three – part series on 'Beyond Just CLTS – Bangladesh' by Apurba.