The Bijnor district administration in Uttar Pradesh is implementing innovative ways to make it open defecation free. This was shared in a high level state workshop 'Good Practices on SBM Gramin: Brainstorming for Achieving ODF Uttar Pradesh' by the Government of Uttar Pradesh at Lucknow on 17 and 18 September 2016.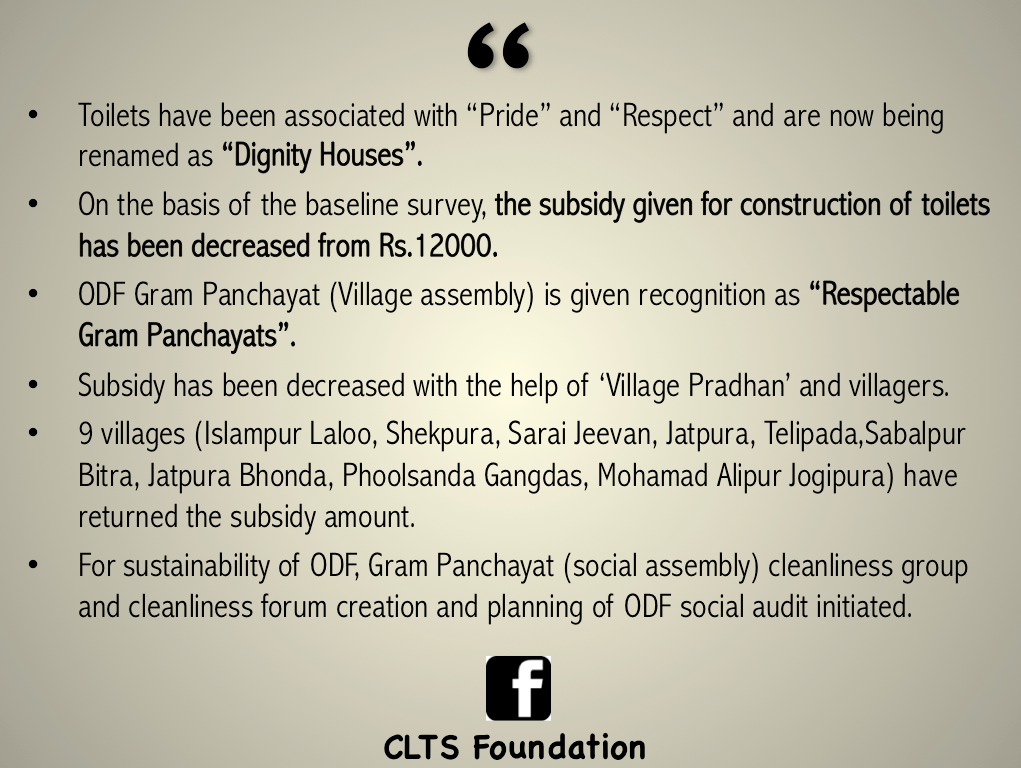 Dr. Kamal Kar who was invited to participate in this high level institutional triggering workshop had already written an exclusive blog on this (read the blog here). District Magistrates (DMs), Chief Development Officers (CDOs) and District Panchayat Raj Officers (DPROs) from eighteen districts of Uttar Pradesh were invited to participate and share their experiences of implementing Swachh Bharat Mission in their respective districts. This was indeed an eye opener as these enthusiastic DMs, CDOs and DPROs from 18 districts of Uttar Pradesh shared how the enormous amount of their energy, resources and time was being spent only to overcome the barrier of subsidy, which is blocking the spontaneous collective community action to end OD unleashed through the triggering of CLTS.
Below mentioned are the nine innovative ways that are being implemented by Bijnor district in Uttar Pradesh to make it open defecation free under 'Bemisal Bijnor' program:
Toilets have been associated with "Pride" and "Respect" and are now being renamed as "Dignity Houses".
On the basis of the baseline survey, the subsidy given for construction of toilets has been decreased from Rs.12000. It is now given exclusively to senior citizens, widow, people with disabilities, people living in huts and temporary construction house dwellers only.
ODF Gram Panchayat (Village assembly) is given recognition as "Respectable Gram Panchayats". They are now being displayed at District and Block level.
The subsidy has been decreased with the help of 'Village Pradhan' (chief of the village) and village people by inspiring them to make "Dignity Houses" on their own. Due to that 9 villages (Islampur Laloo, Shekpura, Sarai Jeevan, Jatpura, Telipada, Sabalpur Bitra, Jatpura Bhonda, Phoolsanda Gangdas, Mohamad Alipur Jogipura) have returned the subsidy amount. If they were given this subsidy according to the baseline survey, it would have amounted to more than 2 Crore rupees approximately.
The innovative initiative of community incentive has been encouraged. For the Social benefit, SLWM benefits are being stressed upon.
Diversification and Institutionalization of CLTS related activities and human resources.
Various new initiatives are launched at regular intervals to empower community members and for the emergence of Natural Leaders. These initiatives ensured participation of the community and provide direction and leadership. Bijnor started celebrating, "Bemisal (Exceptional) Bijnor Week", "Let's make Dignity Houses-Week," "Jan gan man cleanliness and Freedom- Week". On the day of Rakshabandhan, they initiated few more programs such as "Cleanliness Week Program, Bemisal Bijnor event, Cleanliness and Peace-Week and Cleanliness Education Week".
For sustainability of ODF, Gram Panchayat (social assembly) cleanliness group and cleanliness forum creation and planning of ODF social audit was initiated.
Originally written in Hindi by Dr. Indramani Tripathi, CDO, Bijnor and translated in English by Poulomi Pal.
ALSO READ RELATED ARTICLES: 
CLTS Triggering Stages in Bijnor district through illustrations (Credit: CLTS Team, Bijnor):